With the holidays quickly approaching, I thought it would be fun to talk about some great ideas for gifts. There are many unique ideas right here in the Hudson Valley community that will support our local economy. Important, when 64% of every dollar spent local — stays local.
One o
f my favorite holiday traditions is Christmas morning breakfast. We always have the neighbors over for a nice breakfast before we all head off to our relatives' houses for the rest of the day. We serve your typical cuisine from scrambled eggs to my personal favorite, fluffy buttermilk pancakes with fresh local maple syrup. I always get our guests a little something to take home and this year will be no different. Everyone agrees the fresh local maple syrup is delicious, so I will be getting all of our guests a bottle of their own to take home from Crown Maple Farm in Dutchess County. Their light, medium and dark amber syrups all have a unique taste of their own, which is absolutely delicious.
We all have that relative that seems to be overwhelmed with life. Perhaps they have a few kids and a full time job and just never seem to get time for themselves. They probably never get time alone with their spouse to do adult things like going out to a nice restaurant, taking in a scenic drive, or just spending some one-on-one time with each other. A night away at a local Bed & Breakfast would be the perfect gift for them! Sure you will probably have to volunteer to babysit for a night, but it's a gift they are sure to really appreciate. If you need a suggestion, my personal favorite is Simmons' Way In
n. They are a short drive to the Berkshires with great scenery and tons of things to do.
Gift cards go a long way, but let's be a little more creative with our delivery than putting it in a card. Have a friend that is a wine connoisseur? Get them a gift card to their local wine store but give it to them in a nice decorative wine glass. Tie in a gift certificate for dinner with a little bit of dessert by presenting it with a box of chocolates, perhaps from the Village Sampler in Montgomery. Gift certificates tend to be sort of thoughtless, try to spruce them up so that your loved ones know you are thinking about them.
Supporting our local economy for the holiday season is a great way to give gifts to friends and family, as well as giving back to those businesses that support us. There are a lot of great resources for finding these businesses. The 3/50 Project was set up to restore the brick and mortar businesses that have helped build this country. Their website provides resourc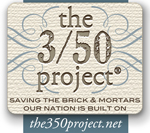 es that will help you find businesses right in your community that you may not even have known about. ABC News has also recently started a project called "Made in America" where you can get great gift ideas for products that are made right in the United States.
This holiday season, think local and try to be a little creative. Remember your local businesses are an essential part of your community — supporting our schools, local events, and non-profits. A little creativity goes a long way in gratitude.